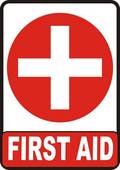 The CPR School just completed CPR AED and OSHA First Aid Safety Certification Classes for the staff of a manufacturing company in Winter Haven Florida and a warehouse distribution company in Orlando Florida. CPR AED and First Aid training is always important but in warehouse distribution and manufacturing it is ever more important due to the great potential for workplace injuries. The CPR School travels to you, offering onsite OSHA CPR AED First Aid safety training certification courses at your business. Human Resource and Safety Managers like us because we teach at your location. The employees like us because we make learning about first aid treatment for medical emergencies interesting and entertaining and the accounting department likes us because our prices are generally much lower than the competition.

The above companies truly valued safety and devoted the entire day to "Employee Heath and Safety". Because of the nature of their business much emphasis was placed on medical emergencies that can happen with machinery, electricity, fork lifts, heat, lifting injuries and falls. Our classes are more than your typical "press press blow" CPR class. During the class we discussed the specific medical emergencies that are present in our client's specific industry, how to prevent these injuries and how to properly treat these injuries should they occur.

Can anyone teach CPR AED and First Aid?
This is a common mistake I often see. In an effort to reduce costs, managers either go with the low bid or attempt to do the training in house. You should never cut costs on life saving training or life saving equipment. Would you have your maintenance man install your fire suppression system? Would you have human resources test and inspect your fire extinguishers? The answer is no, you would not. Both fire suppression systems and fire extinguishers are designed to save property. CPR AED and first aid classes are designed to save lives. Given the choice between saving lives or saving property, which in your opinion is more important and which do you think could result in the greatest liability? Make certain your instructor is a full time instructor that has actually performed CPR and used First Aid in real life on real people. Having people teach CPR that have never done CPR on real people is like taking flying lessons from a guy that has never really piloted an airplane before. Bottom line – always hire a full time professional.

What type of feedback and comments do you typically receive?
Below are a few comments received from the students.
"The entire class was informative"
"Instructor was awesome"
"You are a great teacher"
"Great class"
"Great Class. Very informative"
"Presentation was entertaining"
"The instructor was very knowledgeable and helpful."
"Very good teaching skills, kept my attention the whole class"
"Good class, learned more than any other CPR class I've taken"

How often should CPR and First Aid training occur? |
The old expression use it or lose it comes to mind. The American Heart Association (AHA) and Emergency Care and Safety Institute (ECSI) CPR AED and First Aid certification cards are valid for a period of 2 years. Every 2 years may be sufficient for the actual training classes but safety drills, similar to the fire drills we had in school should be conducted on a regular basis. These drills apply what was learned in the classroom to real life scenarios that can occur on the job site.

What medical emergencies does the First Aid portion of the class cover?
The First Aid class covers care for a variety of different emergencies including:
* Legal/Ethical Concerns
* Blood Borne Pathogens,
* Calling 911 and Emergency Medical Services
* Scene Management and Patient Assessment
* Bleeding and Shock
* Burns
* Injuries to Muscles, Bones and Joints
* Allergic Reactions and respiratory Emergencies
* Diabetic Emergencies
* Poisonings and Overdoses
* Seizures and Strokes
* Heat Exhaustion and Hypothermia

In addition to first aid treatment for medical emergencies what else do you cover?
Our classes are student driven. By this I mean no 2 classes are alike. We encourage the students to talk about medical emergencies that they have seen either on the job or at home. We discuss proper treatment for these emergencies, what to do, and what not to do. We go through many different scenarios and we also stress accident prevention. As the saying goes, an ounce of prevention is better than a pound of cure. Often we discover safety concerns that management was unaware of. Through our classroom discussions, management is then able to take action to correct any safety issues.


Does The CPR School offer Bloodborne Pathogens HIV AIDS training? Yes. We often combine this class with our CPR AED class. Bloodborne Pathogens Training is an OSHA mandated training program for any person who may be "reasonably anticipated" to come into contact with blood and other potentially infectious materials (OPIM) as the result of performing their job duties. OSHA Bloodborne pathogens. - 1910.1030

Are first responders required to take Bloodborne Pathogens Training? OSHA indicates that anyone who may come in contact with blood or body fluid for any reason be trained.

What else can I do to improve the safety of my staff? Quick access to the proper PPE – Personal Protective Equipment is a must for your staff. Your PPE should include medical exam gloves, a CPR Mask, eye protection, biohazard bag and a face mask. These are relatively inexpensive and should be placed in an easy to reach location to allow quick retrieval for use in the event of a medical emergency.


AUTOMATED EXTERNAL DEFIBRILLATORS - AEDS
Do you have AEDs – Automated External Defibrillators at your location?
If so, we can train your team how and when to use the AED. We can also teach you how to inspect the AED to ensure that the AED battery and electrode pads are working properly. If you do not have AEDs at your location, we can help with that too. We can sell or lease your security company the AED and we also sell the AED electrode pads and AED batteries.

Should all businesses have at least one AED at their location?
My answer is always "Yes". According to OSHA 13% of all workplace fatalities result from sudden cardiac arrest. According to the American Heart Association, sudden cardiac arrest claims about 340,000 lives each year – or around 1,000 every day in the United States. Sudden cardiac arrest, which is the leading cause of death in the United States. Cardiac arrest kills more people than breast cancer, lung cancer, and AIDS combined. Currently 95 percent of all cardiac arrest victims die.

Simply put, Automated External Defibrillators (AEDs) save lives. Would you spend $2,000 if it saved an employee? The answer is obviously yes. You have smoke detectors, fire extinguishers, security cameras and other systems to save property why not put something in place that saves lives. Think about this, how many fire extinguishers does your company own? How many AEDs? Fire extinguishers are designed to save property whereas an AED saves lives. Life safety is far more important than saving property. Call or e-mail me to learn more about which AED is best for your business.

Keith Murray, owner of The CPR School, LLC is a licensed Florida EMT Firefighter who hold a masters degree and both the Florida 220 and 215 insurance licenses. Mr. Murray consults with Florida businesses and risk and safety managers regarding Automated External Defibrillators (AED), CPR AED and First Aid Safety Training Classes and other risk management issues.

The CPR School can help you every step of the process from A to Z. We start by helping you find the right make and model AED. Next we help you select the right location for the AED. Then we train your staff how to use the AED. Then we train your staff how to properly maintain and inspect the AED. And finally, if you use the AED we help you download the event data and get the defibrillator back into service. Automated external defibrillator sales, AED Program Management, AED Maintenance, AED Batteries and AED Electrode Pads, Onsite CPR, AED First Aid Safety training classes at your Florida business. Contact The CPR School at 877-6-AED-CPR or 877-623-3277 or on the web at http://www.TheCPRSchool.com

Okeechobee County Florida - Cypress Quarters, Taylor Creek, Ancient Oaks, Catterson, Sunset Strip, Barber Quarters, Basinger, Basswood Estates, Dixie Ranch Acres, Fort Drum, Hilolo, Mildred, Sherman, Treasure Island, Upthegrove Beach.
St. Lucie County Florida - Fort Pierce, Port St. Lucie, St. Lucie, Hutchinson Island
Indian River County Florida - Fellsmere, Indian River Shores, Orchid, Sebastian, Vero Beach
Brevard County Florida - Cape Canaveral, Cocoa, Cocoa Beach, Grant-Valkaria, Indialantic, Indian Harbour Beach, Malabar, Melbourne, Melbourne Beach, Melbourne Village, Palm Bay, Palm Shores, Rockledge, Satellite Beach, Titusville, West Melbourne
Osceola County Florida – Kissimmee, St. Cloud, Yeehaw Junction, Celebration
Orange County Florida - Apopka, Plymouth, Belle Isle, Eatonville, Edgewood, Maitland, Oakland, Ocoee, Orlando, Windermere, Winter Garden, Winter Park, Bay Lake (part of Walt Disney World), Lake Buena Vista.
Seminiole County Florida - Altamonte Springs, Casselberry, Lake Mary, Longwood, Oviedo, Sanford, Winter Springs
Volusia County Florida - Daytona Beach, Daytona Beach Shores, DeBary, DeLand, Deltona, Edgewater, Holly Hill, Lake Helen, New Smyrna Beach, Oak Hill, Orange City, Ormond Beach, Pierson, Ponce Inlet, Port Orange, South Daytona.
Flagler County Florida - Bunnell, Flagler Beach, Palm Coast, Marineland, Beverly Beach
Alachua County Florida - Alachua, Archer, Gainesville, Hawthorne, High Springs, LaCrosse, Micanopy, Newberry, Waldo
Marion County Florida - Ocala
Lake County Florida – Astatula, Clermont, Eustis, Fruitland Park, Groveland, Howey-in-the-Hills, Lady Lake, Leesburg, Mascotte, Minneola, Montverde, Mount Dora, Tavares, Umatilla
Polk County Florida - Auburndale, Bartow, Davenport, Dundee, Eagle Lake, Fort Meade, Frostproof, Haines City, Highland Park, Hillcrest Heights, Lake Alfred, Lake Hamilton, Lakeland, Lake Wales, Mulberry, Polk City, Winter Haven

*********************************************************************
Disclaimer: The American Heart Association strongly promotes knowledge and proficiency in CPR, First Aid and AED use and has developed instructional materials for this purpose. Use of these materials in an educational course or mention of the American Heart Association name does not represent course sponsorship or product endorsement by the American Heart Association, and any fees charged for such a course do not represent income to the Association.

CPR AED First Aid Safety Training Classes at your Florida Business
AED Sales and Service in the following Florida locations:
Alachua, Baker, Bay, Bradford, Brevard, Broward, Calhoun, Charlotte, Citrus, Clay, Collier, Columbia, Dade, De Soto Dixie, Duval, Escambia, Flagler, Franklin, Gadsden, Gilchrist, Glades, Gulf, Hamilton, Hardee, Hendry, Hernando, Highlands, Hillsborough, Holmes, Indian, River, Jackson, Jefferson, Lafayette, Lake, Lee, Leon, Levy, Liberty, Madison, Manatee, Marion, Martin, Monroe, Nassau, Okaloosa, Okeechobee, Orange, Osceola, Palm Beach, Pasco, Pinellas, Polk, Putnam, St. Johns, St. Lucie, Santa Rosa, Sarasota, Seminole, Sumter, Suwannee, Taylor, Union, Volusia, Wakulla, Walton, Washington.