We travel to you and train your employees at your Orlando / Central Florida office


The CPR School provides group CPR AED First Aid Safety training certification classes at your Orlando Florida business, office, hotel, club, church, school, manufacturing facility, construction firm or any other location. Our corporate safety programs are designed to teach your staff how to prepare for medical emergencies. Onsite CPR AED First Aid Safety Training Certifcation Classes.

We offer CPR, BLS, AED, First Aid and Bloodborne Pathogen HIV AIDS Safety Training Certification Classes at your Florida business. The CPR School will travel to your business, office, construction company, manufacturing facility, distribution facility, medical or dental office, restaurant, club, hotel, resort, country club, condo, HOA, church, or any other location offering CPR, BLS, AED, First Aid Safety and bloodborne pathogens HIV AIDS safety training certification classes for your employees. Need an AED? We sell AEDs, AED electrode pads, AED batteries and we inspect, upgrade and repair AEDs.


The CPR School will assist you with federal and state OSHA compliance and other safety training requirements. Safety compliance does not have to be expensive and time consuming – we make safety affordable and won't waste your time. The CPR School's employee health and safety training programs are designed to provide your business with everything necessary for Safety Training and Compliance. On site training courses anywhere in the state of Florida.


From small Orlando Florida businesses to large corporations we can help with all of your safety needs. All companies can reduce costs and minimize risk exposure while improving employee morale with The CPR School's Safety Certification Training Programs. Compare and save. When you perform a cost benefit analysis, comparing in-house training provided by The CPR School versus sending your staff to an outside training site or using expensive "non-profit" agencies for training you can easily save your organization 25% of your annual safety training budget!

We bring the CPR First Aid safety classroom to your business. If you have at least eight (8) employees call 877-6-AED-CPR or 561-762-0500. We are Orlando Florida's complete CPR First Aid AED safety solution.
* Sorry we do not offer classes for individuals or groups with less than 8 students.


Orlando Florida Workplace Medical Emergencies happen every day and we can prepare your staff for these medical emergencies. Our CPR, First Aid and AED classes are both educational and fun. Our philosophy is that learning should be fun. We feel that if you have fun, laugh and the CPR class is interesting you will enjoy yourself and will absorb and retain the material better. Another major difference, all of our instructors have actually performed CPR, First Aid and used AEDs on real people. Not all instructors have real world CPR First Aid AED experience, they simply read about CPR and First Aid in a book. We believe real world experience makes for a better instructor and believe you will too. All of our courses are designed to comply with the most current OSHA regulations. We offer onsite group safety training classes at your Florida business.

WHAT WE DO:
1. CPR Training Classes - Certification and re-certification classes
2. First Aid Training - includes choking and stroke warning signs
3. HIV / Bloodborne Pathogens Class
4. AED Automated External Defibrillator Training
5. AED- Automated External Defibrillator Sales, Maintenance, Service, Program Management and Consulting


Do you offer Bloodborne Pathogens HIV AIDS training?
Yes. We often combine this class with our CPR AED and first aid class. Bloodborne Pathogens Training is an OSHA mandated training program for any person who may be "reasonably anticipated" to come into contact with blood and other potentially infectious materials (OPIM) as the result of performing their job duties. OSHA Bloodborne pathogens. - 1910.1030

Who needs Bloodborne Pathogens Training?
Adult Day Care and Assisted Living Facility (ALF) Staff, Child Day Care Providers, Coaches and Personal Trainers, Construction Workers, CPR and First Aid First Responders, Emergency Response Teams (ERT & CERT), Cleaning, Housekeeping, Custodians and Janitorial Professionals, Health Care Providers including Doctors, Dentists, Nurses, Dental Assistants and Dental Hygienists, CNA's, Plumbers and Electricians, Tattoo Artists, Teachers, Police Officers, Corrections Officers and Security Guards. This list should include anyone who may come in contact with blood or body fluid for any reason.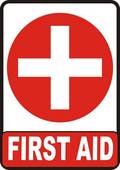 Who should take CPR AED First Aid & Bloodborne Classes?
Everyone! Hospital Workers, Healthcare Providers, Childcare Providers, Group Home Operators, Nurses, Dental Employees, Teachers, Teacher Aides, Coaches, EMT, Police, Security Guards, Gym Employees, Personal Trainers, Aerobics Instructors, Therapists, Athletic Trainers, Home Healthcare, Caregivers, Childcare, Counselors, Chiropractors, Dentists, Dental Offices, Boat Captains, Boat & Yacht Owners and Crew, Fishermen, Parents, Adoptive Parents, Foster Parents, Grandparents, Nannies, Babysitters, Homeowners Associations, Civic Groups, Students, Restaurant Workers, Construction Workers, Clubs, Golf Course Staff, Government Agencies, Non-Profit Organizations, anyone that works with the public, anyone with children, anyone with parents, anyone that would like to know how to save someone's life during an emergency – Anyone.

What medical emergencies does the First Aid portion of the class cover?
The First Aid class covers care for a variety of different emergencies including:
* Legal/Ethical Concerns
* Blood Borne Pathogens,
* Calling 911 and Emergency Medical Services
* Scene Management and Patient Assessment
* Bleeding and Shock
* Burns
* Drowning
* Injuries to Muscles, Bones and Joints
* Allergic Reactions and Respiratory Emergencies
* Diabetic Emergencies
* Poisonings and Overdoses
* Seizures and Strokes
* Heat Exhaustion and Hypothermia

We provide on site CPR training classes, AED Training, Sales and Service for groups all over Florida including the locations listed below.
Orange County Florida CPR AED First Aid Safety - City of Apopka, Plymouth, City of Belle Isle, Town of Eatonville, City of Edgewood, City of Maitland, Town of Oakland, City of Ocoee, City of Orlando, Town of Windermere, City of Winter Garden, City of Winter Park, City of Bay Lake (part of Walt Disney World), City of Lake Buena Vista.
Osceola County Florida CPR AED First Aid Safety – Kissimmee, St. Cloud, Yeehaw Junction, Celebration
Brevard County Florida CPR AED First Aid Safety - City of Cape Canaveral, City of Cocoa, City of Cocoa Beach, Town of Grant-Valkaria, Town of Indialantic, City of Indian Harbour Beach, Town of Malabar, City of Melbourne, Town of Melbourne Beach, Town of Melbourne Village, City of Palm Bay, Town of Palm Shores, City of Rockledge, City of Satellite Beach, City of Titusville, City of West Melbourne
Lake County Florida CPR AED First Aid Safety – Town of Astatula, City of Clermont, City of Eustis, City of Fruitland Park, City of Groveland, Town of Howey-in-the-Hills, Town of Lady Lake, City of Leesburg, City of Mascotte, City of Minneola, Town of Montverde, City of Mount Dora, City of Tavares, City of Umatilla
Polk County Florida CPR AED First Aid Safety - City of Auburndale, City of Bartow, City of Davenport, Town of Dundee, City of Eagle Lake, City of Fort Meade, City of Frostproof, City of Haines City, Village of Highland Park, Town of Hillcrest Heights, City of Lake Alfred, Town of Lake Hamilton, City of Lakeland, City of Lake Wales, City of Mulberry, Town of Polk City, City of Winter Haven
Seminiole County Florida CPR AED First Aid Safety - City of Altamonte Springs, City of Casselberry, City of Lake Mary, City of Longwood, City of Oviedo, City of Sanford, City of Winter Springs
Volusia County Florida CPR AED First Aid Safety - City of Daytona Beach, City of Daytona Beach Shores, City of DeBary, City of DeLand, City of Deltona, City of Edgewater, City of Holly Hill, City of Lake Helen, City of New Smyrna Beach, City of Oak Hill, City of Orange City, City of Ormond Beach, Town of Pierson, Town of Ponce Inlet, City of Port Orange, City of South Daytona.
*********************************************************************
Disclaimer: The American Heart Association strongly promotes knowledge and proficiency in CPR, First Aid and AED use and has developed instructional materials for this purpose. Use of these materials in an educational course or mention of the American Heart Association name does not represent course sponsorship or product endorsement by the American Heart Association, and any fees charged for such a course do not represent income to the Association.